Dog Photography Workshop Belgium
The main aim for this dog photography workshop is to show you my way of taking dog portraits and photos of dogs in bigger landscapes. I want to show you why also shorter focal lengths are worth to use and why sometimes a different perspective than taking the photo at the eyelevel of the dog can be the right choice to create the photo you have already in your mind. The theory will equip you with all necessary informations for the practical parts. I will share with you my experience over the last 10 years of dog photography in different photo sessions, were we will take photos of a nice variety of dogs. During the post processing I will show you the most important basics of Photoshop, how you can advance your photos with easy editing steps and how you can give them some kind of fairytale look. 
The workshop is hosted by lovely Katja from Goldendogphotography. 
.create your artistic vision. 
Make visible, what never have been perceived without you. 
Theory
Choice of lenses and the effects of different focal lengths – Which situation needs which focal length?

Why to work with different perspectives

Controlling your settings and the quality of your photo

How to work with different dogs

Shooting techniques for dog portraits and dogs in big landscapes

Understanding the dog's expression and body language

How the dog's expression and body language changes the meaning image

How to work with natural light

How to create a great depth of field
Practical Part
Taking photos of a variety of dogs in 2 different locations

How to use the environment regards to the light conditions and the different dogs 

How to find the best spot and best position for the dog 

Which settings are necessary to use to create the photo you have in your mind

Finding the right composition and perspective

How to motivate the dog 

 individual advice
Post Processing
Basics of Photoshop and Camera Raw

Using masks and layers

Control of the sharpness and noise of the image

How to make a selection of the dog

Optimizing the dog in a natural way

How to edit the background

How to use "Dodge & Burn" 

Changing colors and working with color harmonies and contrasts

How to save your photos for printing and the web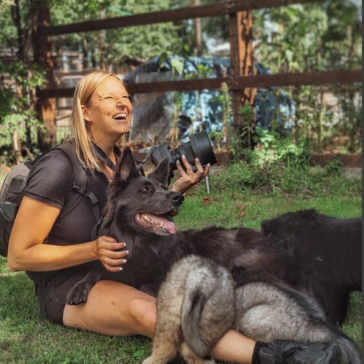 Katja Goovaerts – Golden Dog Photography 
Katja is a professional photographer from Belgium and also a dogmom of two Golden Retrievers and a Bernese Mountain dog. Animals, especially dogs, always played a major role in her life. At the age of 12 she already discovered her passion for photography. 
You want to see more of her fabulous work – take a look at her website: GoldenDogPhotography.